Raman Probe Raman Fiber Fluorescence Probe Fluorescence Optical Fiber
Note:
(1) This is the deposit, not the final product price.
The price of Raman fiber optic probe is about $4234, and the price of fluorescent probe is generally around $1971. Different parameters have different prices, please contact us for the actual price.
(2) Lead Time: 3~4 weeks.
Quotation reference:
Inquiry needs to provide parameters such as wavelength, half-peak width, applicable fiber core diameter, and interface.
Example: Wavelength is 785nm, width at half maximum is 0.2nm, optical fiber is 100μm, SMA905 connector.
Raman probes with this parameter: $4445/piece, and the delivery time is about 2 weeks.
Filters for specific wavelengths are more expensive.
Raman fiber probe:
Our Raman fiber optic probes mainly have three excitation wavelengths, 785nm, 633nm and 532nm, and can be coupled to any variety of spectrometers. The probe is light in weight, compact and convenient. Like our conventional optical fibers, FIBR can be used with compact sample holders for routine measurement of liquids and solids. The 105μm excitation fiber and 200μm collection fiber can be coupled to most laser/spectrometer combinations. Please be careful of the strong laser from the probe during use to prevent the laser from being irradiated.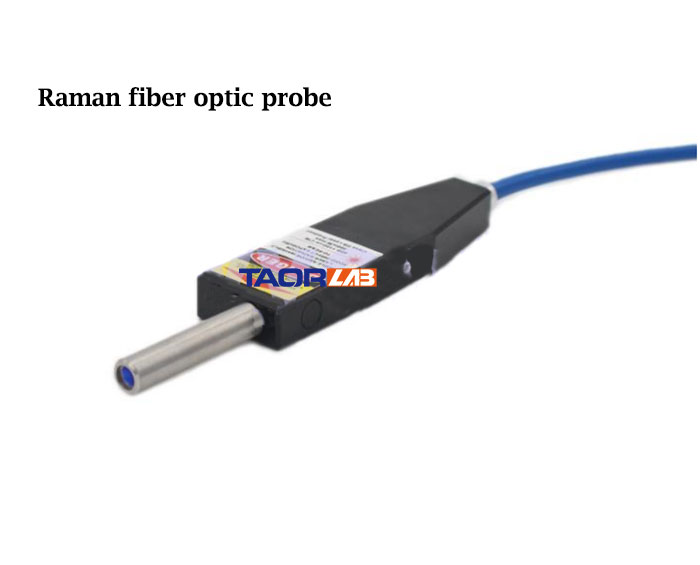 | | |
| --- | --- |
| Specification | Raman Fiber Probe |
| Sampling head | Aluminum anodized black shell (120*30*13mm), with 40mm stainless steel probe |
| Spectral range | 250~4000cm-1 |
| Excitation wavelength(nm) | 514,532,632,670, "785"(782-788),830nm |
| Working distance | 7.5mm (standard) |
| Fiber configuration | Two single fibers (105μm excitation fiber, 200μm acquisition fiber) |
| Filtration efficiency | OD6 |
| Working/storage temperature | 0~60℃ |
| Working/storage humidity | 5%~85% |
| cable length | 1.5m |
| Excitation end connector | FC connector (standard) or SMA905 connector |
| Collection end connector | SMA905 connector |

Fluorescence fiber probe:
TaorLab's FIBF series laser induced excitation fluorescence probe mainly has five excitation wavelengths: 405nm, 450nm, 532nm, 808nm and 980nm. Laser induced fluorescence probe. Cooperating with a miniature spectrometer can realize conventional fluorescence measurement. The excitation light source is required to be a continuous laser. The compact design can be used to measure the fluorescence of liquids and solids with the support of the sample holder. In addition, the solid optical design can obtain repetitive optical signals to achieve some fluorescence quantification measurement requirements.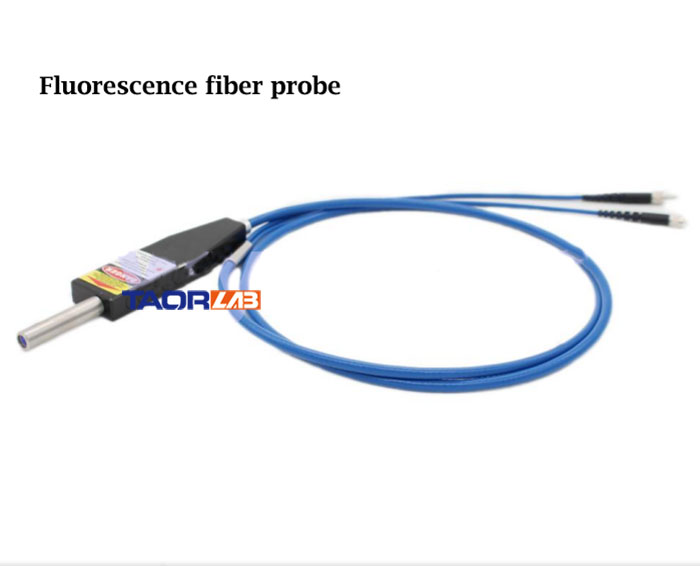 | | |
| --- | --- |
| Specification | Raman Fiber Probe |
| Sampling head | Aluminum anodized black shell (120*30*13mm), with 40mm stainless steel probe |
| Excitation wavelength(nm) | 405nm, 450nm, 532nm, 808nm, 980nm |
| Detection wavelength range | 400~1100nm, (Defined according to different models) |
| Working distance | 7.5mm (standard) |
| Fiber configuration | Two single fibers (105μm excitation fiber, 200μm acquisition fiber) |
| Filtration efficiency | OD3 |
| Working/storage temperature | 0~60℃ |
| Working/storage humidity | 5%~85% |
| cable length | 1.5m |
| Excitation end connector | SMA905 connector (standard) or FC connector |
| Collection end connector | SMA905 connector |